A man who terrified female drivers heading home late at night while wearing a gimp suit has been found guilty of public order offences.
Joshua Hunt, 32, was seen by one woman writhing around on the ground, while another was left shaking and crying.
The incidents took place in the evening of May 7 and just after May 9 in Bleadon, near Weston-super-Mare in Somerset, Bristol Magistrates' Court heard today.
The court heard he told police after he was arrested: "I am not a gimp, I do not own a gimp suit. I am not in a gimp suit."
'Writhing and crawling'
Motorist Lucy Lodge, in a written statement, said she was on her own when she drove home through Bleadon and saw a figure moving on the ground.
She said: "He was writhing and crawling as if in a military fashion. I could see the person was wearing very tight, dark clothing and had a mask on their face.
"The mask was dark and very tight and two white crosses where the eyes should be. My first thought was it could be a possible abduction and the person was trying to get me out of my car.
"It was terrifying although I had only seen them for a few seconds."
Read more:
Three inmates abscond from same prison in one day
Eleven teens arrested after boy, 16, stabbed to death
Thousands raised for cops sacked over stop and search
The witness told the court she thought she was witnessing an abduction when she saw the man on the ground.
She added: "I had never seen anything like this before. I feel scared and I never want to see this thing again due to the fright it gave me. I didn't sleep more than three hours that night."
Shortly after midnight on May 9, Samantha Brown was driving from work with her sister-in-law and another colleague when she saw a man dressed all in black with a face mask, the court heard.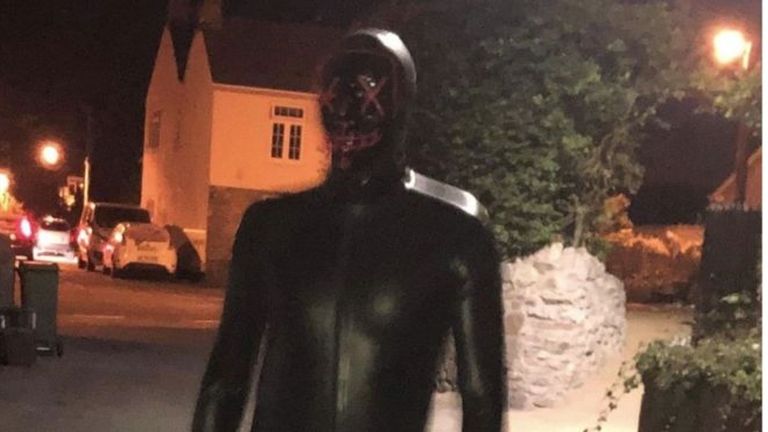 Following reports of the second incident, the court heard police went to Bleadon and spotted a white Berlingo van in a field which was reversing and decided to stop it.
PC Declan Coppock spoke to the defendant, who was wearing grey trousers and a black hooded top, and arrested him.
"I noticed his skin was extremely wet and damp – suggesting he had been lying on the side of the road," the officer said.
Hunt told him: "I am not dangerous, I am a normal person, I have got a few problems."
A search of the van found Hunt was not wearing a T-shirt or any underwear and inside his van was a collection of wet black clothing, women's tights, face masks and gloves. There was also neon white paint used for drawing on a mask, the court heard.
Hunt told police during an interview that his mental health had been in "crisis" over problems with his medication and wanted to take his own life, the court heard.
"I stood in the road because I wanted to kill myself and I never intended to scare anybody," he told officers. "I am crying out for help and need help with my mental health."
A search of Hunt's home in Claverham uncovered a journal in which he had written a story about someone called Jack who purchases a black rubber suit and mask with white paint on the mask.
He had also done internet searches in 2022 and 2023 about the "Somerset Gimp" and the "Gimp of Cleeve", the court heard.
'I hated myself with the way I looked'
Giving evidence, Hunt, a self-employed gardener, told the court he had been in a "very traumatic state of mind" in May of this year and was speaking with the Samaritans and getting counselling.
"I hated myself with the way I looked and the way I am and everything about me," he told the court, fighting back tears.
He explained he would go out at night and change into black clothing to go "mudding".
"Which a lot of people wouldn't understand, which is something I do to get covered in mud which is another reason I was there as it is close to the estuary where there is mud," he said.
Hunt also told the court on the two nights he had been seen on the side of the road he had wanted to kill himself by being hit by a car.
"It never entered my head that what I was doing was frightening people," he said.
"I apologise to those people – I agree what I was doing was frightening but hand on my heart I never intended to cause them harassment, alarm or distress."