Twenty seven people have died and four are missing after Hurricane Otis made landfall in Mexico, authorities have said.
The hurricane intensified yesterday before hitting Acapulco, a beach resort town that's home to more than one million people.
Tens of thousands of residents, stranded in their damaged homes without power, have been awaiting assistance for over a day after the hurricane made landfall in the area.
Federal Security Secretary Rosa Icela Rodríguez reported 27 confirmed deaths and four disappearances during President Andrés Manuel Lopez Obrador's morning news briefing, a sentiment echoed by Guerrero state Governor Evelyn Salgado moments later.
Atlantic hurricanes are now more than twice as likely as before to rapidly intensify from minor storms to powerful and catastrophic weather systems, according to US climate scientist Andra Garner.
Mr Lopez Obrador said the destruction was so severe that there wasn't a single power line pole left standing in the affected area.
He pointed out that small farmers bore the brunt of Otis' wrath, with their corn crops ravaged by the relentless wind and rain. He stressed that the immediate restoration of power in the region was of utmost importance.
"We regret the 27 dead," he said. The president said 18 people had died on Wednesday night, but the number of deaths increased early on Thursday. "That's what hurts the most," he said, referring to the deaths, adding that material losses could be replaced.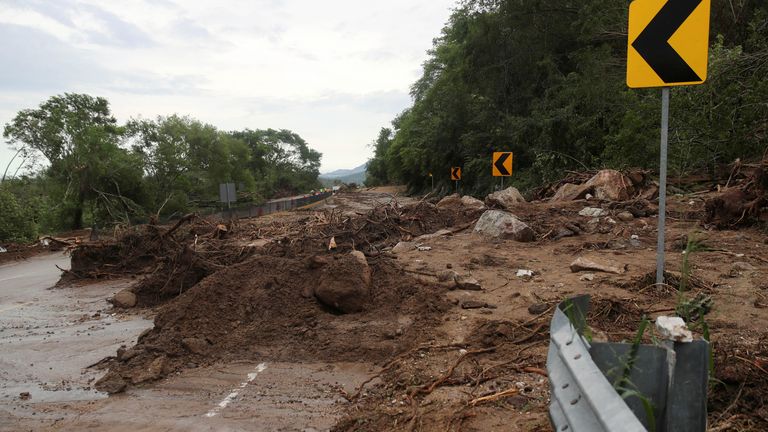 Mr Lopez Obrador revealed information about one of the victims – a soldier who lost his life when a wall of his home collapsed on him.
Early reports of the hurricane depicted widespread destruction, with images showing toppled trees and power lines submerged in vast brown floodwaters, stretching for miles in certain areas.
This extensive damage hampered the government's prompt response, as they were still evaluating the coastal destruction, leaving residents in a state of desperation.
In Acapulco, one-sleek beachfront hotels now stand as shattered structures, their windows blown out by the Category 5 storm, potentially numbering in the thousands.
Frustration with authorities is widespread. Despite the presence of 10,000 military troops, they lack the necessary equipment to clear streets of mud and fallen trees.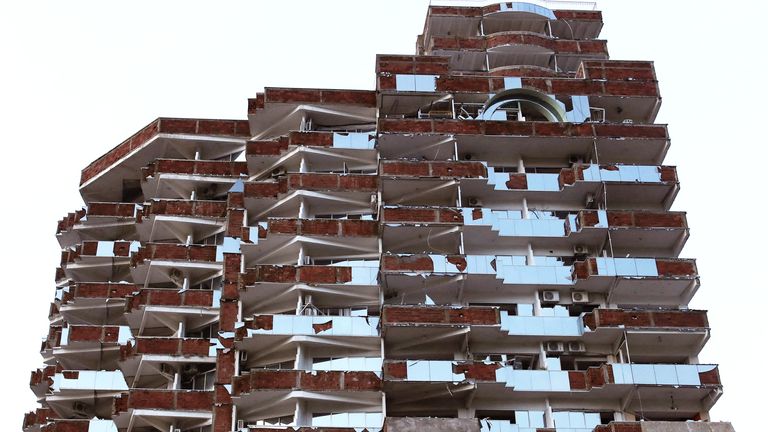 Government electricity company trucks arrived in Acapulco on Wednesday, but restoring power is proving difficult, with electricity lines submerged in mud and water, leaving crews uncertain about how to proceed.
Acapulco's Diamond Zone, filled with hotels and restaurants, appeared submerged in drone footage from a Foro TV report.
Boulevards and bridges were entirely concealed by a vast lake of brown water. Buildings had their walls and roofs torn off, with solar panels, cars, and debris scattered in a severely damaged hotel lobby.
Some areas had people wading through waist-deep water, while soldiers cleared rubble and palm fronds from less-flooded streets.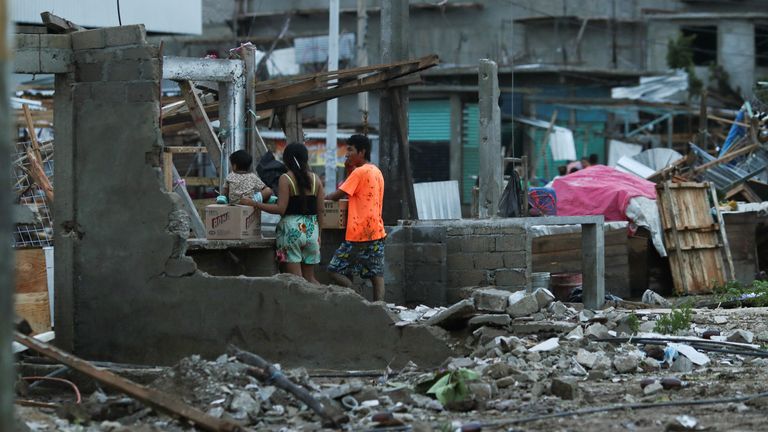 Nestled beneath steep mountains, Acapulco features luxury homes and slums dotting the hillsides overlooking the Pacific Ocean. Once a haven for Hollywood stars, the city's allure, including nightlife, sport fishing, and cliff diving, waned due to rising violence caused by competing organised crime groups. This shift pushed international tourists toward destinations like Cancun, Riviera Maya, and Oaxaca.
Mr Lopez Obrador highlighted that Hurricane Otis surpassed the intensity of Hurricane Pauline, which struck Acapulco in 1997, causing extensive damage and claiming over 300 lives.
This breaking news story is being updated and more details will be published shortly.
Please refresh the page for the fullest version.
You can receive Breaking News alerts on a smartphone or tablet via the Sky News App. You can also follow @SkyNews on X or subscribe to our YouTube channel to keep up with the latest news.