All the civilians being held hostage in Gaza can be released in days, if there is a pause in the fighting, the Qataris leading negotiations say.
Dr Mohammed Al Khulaifi, senior negotiator and Qatar's minister of state for foreign affairs, told Sky News in an exclusive interview that the negotiations to free Israelis taken by Hamas were tough but mediators are making progress.
"It's a very, very difficult negotiation that we've been dealing with," he said.
"And with this, the violence increases every day and with the bombing continuous every day, our task has become even more difficult."
Follow live: Israeli tanks cross into Gaza in 'tactical raid'
So far only four hostages have been released – an American mother and her daughter, and two elderly Israeli women.
More than 200 from many different countries remain captive inside Gaza.
Dr Mohammed told Sky News he is increasingly optimistic about a breakthrough, adding: "Our target is to release all of the civilian hostages. That's what we're working on, and that's what we want to achieve.
"We remain hopeful. We do the best that we can trying to get everyone soon and hopefully we can achieve that goal within the upcoming days."
But the negotiator said there is a major caveat to that optimism: For further progress to secure more releases, there needs to be a pause in the fighting.
Dr Mohammed added: "If the mediator wants to perform its task in the best way possible as a state, then we need to reach a period of calm.
"We need to reach a period where we can speak logically to both sides and come up with positive initiatives."
Read more:
What Israel's tank raid suggests about ground invasion
The British victims of the Israel-Hamas war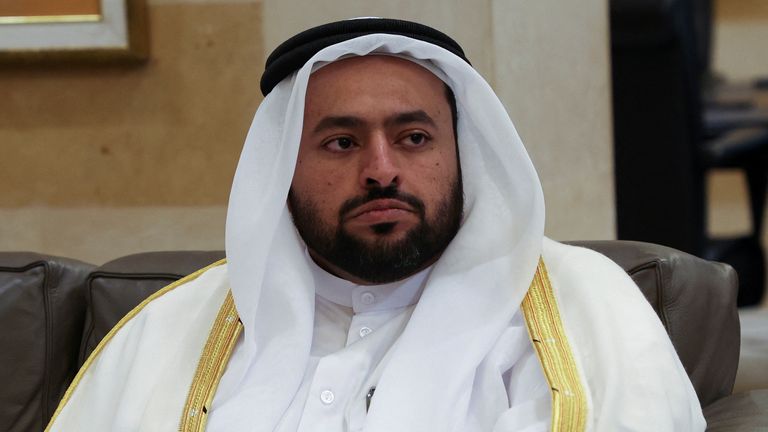 Any uptick in fighting by either side, including an Israeli ground offensive, would jeopardise the chances of success, the Qatari minister said.
He explained: "Any escalation whatsoever is going to make our job really harder. Any escalation whatsoever. So we're trying to send those messages to our partners and friends."
Qatar has forged a unique role in mediating this conflict and many others – from Ukraine to Afghanistan.
It hosts the political office of Hamas – the militant organisation that controls Gaza – in an office set up with America's blessing. That helps it transfer aid into Gaza and keeps diplomatic channels open.
Dr Mohammed also expressed concern over the lack of aid now getting into Gaza.
He said: "It's very, very critical. It's a very critical situation.
"The people in Gaza need the humanitarian assistance today more than ever."