Negotiations to release more Hamas hostages from Gaza are ongoing but could be jeopardised by an Israeli ground offensive, Qatari mediators have warned.
"If we can keep discussions going between both parties we should see some sort of breakthrough, hopefully soon," Sheikh Mohammed bin Abdulrahman al Thani, Qatar's foreign minister, told Sky News in a briefing in Doha.
But a Qatari foreign ministry spokesman later said an escalation in Gaza – including any expected land incursion by Israel – would complicate the high-stakes negotiations about the fate of the hostages.
"To get them safely home depends on the right conditions," he told Sky News.
So far only four hostages have been released. More than 200 were snatched from Israel in Hamas raids on 7 October.
Israel-Gaza latest:
Leaders of militant groups meet to discuss 'axis of resistance'
Sources close to the talks say the logistics of taking hostages from the places of their captivity to freedom would be made much harder if Israel goes in on the ground.
The Qatari foreign minister, who is also the state's prime minister, gave his update alongside his Turkish counterpart.
Turkish foreign minister, Hakan Fidan, told reporters the war in Gaza is of a different order to previous conflicts there.
"This crisis is huge and there are many threats and differences with crises in the past in Gaza," he said.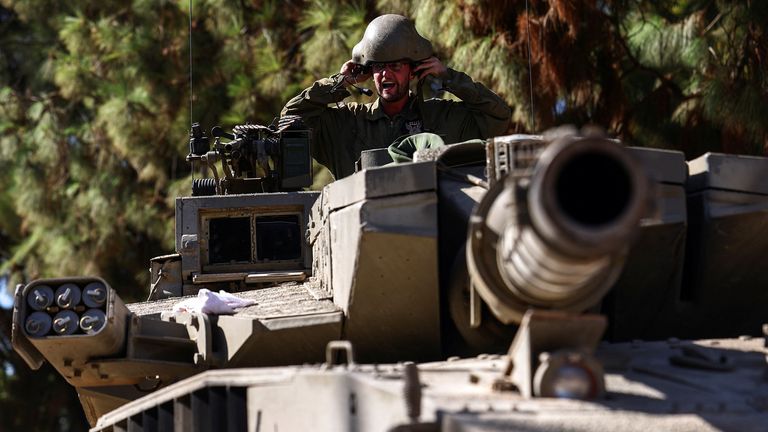 Both diplomats criticised Israel for what they called its "collective punishment" of civilians in Gaza.
They stressed there must be a political solution to the conflict and a ceasefire.
Israel insists its aerial bombardment is targeted at Hamas, despite the loss of thousands of civilian lives in Gaza.
It says the military action is to defend itself after the slaughter of 1,400 Israelis, many civilians, by Hamas on 7 October.
But thousands of lives have been lost in Gaza, with a third of hospitals there shut due to a shortage of fuel caused by an Israeli blockade.
Read more:
IDF urges world to help Israel as enemies hold talks
Hezbollah faces huge risks if it joins war against Israel
'Double standards compared to war in Ukraine'
The Qatari prime minister called out what he said were the "double standards" of the international community in condemning neither the killing of children in Gaza, or Israel's cutting off of the water supply and electricity to Palestinians living there.
"There is growing anger among everyone in this region who question the reaction of the international community for those crimes that are happening against Palestinian people," he said.
He added: "What you will see as a common pattern of all governments of this region is questioning why we are dealing with double standards with different people… the number of children killed in this war has exceeded the number of children killed in the war between Ukraine and Russia – yet we didn't see the same reaction."
Qatar hosts the political office of Hamas – which was set up with the blessing of both the US and Israel – to enable the transfer of aid to Gaza and to keep diplomatic channels open.
Today, Israel's national security minister, Tzachi Hanegbi, praised the role Qatar is playing in this crisis, despite widespread criticism, tweeting: "I'm pleased to say that Qatar is becoming an essential party and stakeholder in the facilitation of humanitarian solutions.
"Qatar's diplomatic efforts are crucial at this time."