A fugitive ex-soldier is believed to have escaped from prison by tying himself to the underside of a food truck.
Details have started to emerge of how terror suspect Daniel Abed Khalife fled HMP Wandsworth, with Justice Secretary Alex Chalk revealing "strapping" was found underneath the vehicle.
The 21-year-old was working in the kitchen and was wearing a chef's uniform, and is thought to have hidden beneath the food delivery van and held on to the straps to make his escape.
Sky News understands Bidfood are the delivery firm involved.
In a statement the company said: "Yesterday morning we were made aware of a security incident involving one of our vehicles, whilst out on delivery. We can confirm that our driver fully cooperated with the police on this matter before returning back to the depot. We will continue to assist the authorities in their ongoing investigation."
Read more: Terror suspect latest: Motorway closed amid hunt for prisoner on the run
Outlining to MPs in the Commons what happened at HMP Wandsworth on Wednesday, Mr Chalk said the truck left the category B men's prison at 7.30am after making a delivery to the kitchen.
"Shortly afterwards, local contingency plans for an unaccounted prisoner were activated and in line with standard procedure the police were informed," the cabinet minister said.
The prison was locked down while staff attempted to determine Khalife's whereabouts.
The food truck was stopped and searched by police after the alert was raised.
"Strapping was found underneath the vehicle which appeared to indicate that Daniel Khalife may have held onto the underside of it in order to escape," said Mr Chalk.
How prisoner's escape unfolded

M20 stretch shuts due to manhunt
He ended his statement by saying a manhunt is under way and Khalife "will be found" – as he announced an independent investigation into the escape.
It will include two urgent reviews, the first focusing on the "placement and categorisation" of all inmates at the jail, while a second will investigate all those people in custody currently charged with terror offences.
Khalife was on remand at the south London prison – awaiting trial accused of leaving fake bombs at a military base, and other charges relating to the Official Secrets Act.
It is feared the former member of the Royal Signals – who was based at Beacon Barracks in Stafford – may have fled the country.
His disappearance has prompted extra security checks at major UK airports and ports including Manchester, Gatwick, Heathrow and Dover.
Kent Police confirmed on Thursday the M20 was shut between junctions 8 and 9 due to the "enhanced security checks" – and to allow freight heading for mainland Europe to queue on the empty section of the motorway.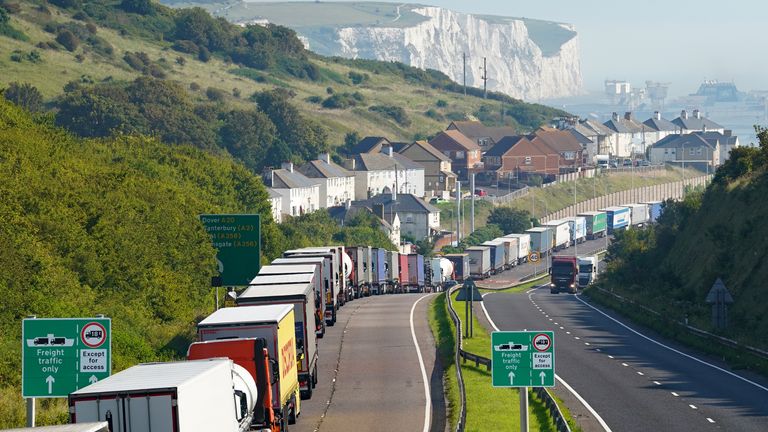 'Prisoner may look for burn treatment'
The head of the Metropolitan Police Counter Terrorism Command, Commander Dominic Murphy, has said there is "no reason to believe Khalife poses a threat to the wider public" but urged people not to approach him and to call 999 if they spot him.
He has links to northwest England and Kingston in London but Mr Murphy said the manhunt covers the whole of the UK.
Former Scotland Yard detective Peter Bleksley said Khalfe may have suffered burns after clinging on to the underside of the food van and seek treatment – and urged pharmacies to keep a lookout.
He told Sky News: "Clinging to the bottom of a vehicle, if it's got a petrol or diesel combustion engine, it is a pretty risky thing to do, not only because of course you can lose your grip and fall on a roadway, but exhaust systems, which generally speaking run the entire length of a vehicle like that, get incredibly hot.
"The slightest touch of that exhaust system will leave you with a vey unpleasant burn.
"So I would suggest to anybody who works in a chemist or pharmacy or shops where medical supplies are sold – just keep your eyes out today if somebody comes in asking for advice on how to treat burns, and sourcing bandages… and the like."
Escaped prisoner 'may look for burn treatment'

'Bomb hoax'
Khalife appeared at the Old Bailey via video link in July to deny a charge of breaching the Official Secrets Act, which alleges he committed "an act prejudicial to the safety or interests of the state".
It states that between 1 May 2019 and 6 January 2022 he "obtained, collected, recorded, published or communicated to any other person articles, notes, documents or information which were calculated to be or might be or were intended to be directly or indirectly useful to an enemy".
Read more:
What life is like at HMP Wandsworth
Why wasn't he banged up in Belmarsh?
What we know about terror suspect
He also denied a charge under the Terrorism Act that alleges he "elicited information about individuals who are members of His Majesty's forces" on 2 August 2021.
The charge relates to him allegedly "obtaining personal information from the MoD Joint Personnel Administration system of a kind likely to be useful to a person committing or preparing an act of terrorism".
Khalife further pleaded not guilty to carrying out a bomb hoax on or before 2 January.
It is claimed he placed "three canisters with wires on a desk in his accommodation" with the intention of inducing in another a belief this was "likely to explode or ignite and thereby cause personal injury or damage to property".
He is due to face a six-week trial at Woolwich Crown Court from 13 November.