Ryan Reynolds, Rob McElhenney and Wrexham AFC's players and staff are celebrating their recent success with an open-top bus parade.
Crowds gathered in the city in northeast Wales to cheer both Wrexham AFC's men's and women's teams gaining promotion in their respective leagues this season.
The men's team are returning to the English Football League for the first time in 15 years – they will play in League Two in the forthcoming campaign.
Wrexham Women have been promoted from the Adran North League and will next play in the Adran Premier, the highest league for women's football in Wales.
Open-top bus parade goes through Wrexham

The three-bus parade started at the Race Course Ground and is touring the city, allowing club supporters to celebrate the efforts of players and staff.
The celebrations come after co-owners Reynolds and McElhenney, both Hollywood stars, told Welsh-language broadcaster S4C this week that their aim is to reach the Premier League, even if it takes 20 years.
They had previously tried to convince former Wales captain Gareth Bale to come out of retirement and play for Wrexham.
Reynolds and McElhenney have reportedly already spent more than £10m on restructuring the club from top to bottom.
It will be down to the manager Phil Parkinson to advise the celebrity owners on what realistic reinforcements are likely to be needed for next season.
Asked about the club's transfer plans for the summer window, McElhenney said: "We defer to Phil. We are actively talking about that right now. I know for a fact he feels as though we have a very strong side.
"No decision that we have made over the last two years hasn't kept the future in mind, so we never make a short-term decision.
"Any player that we have signed, we have signed to at least a three-year deal, except for one (goalkeeper Ben Foster).
"He is the guy we are going to work on, but other than that, I think we have a very strong side."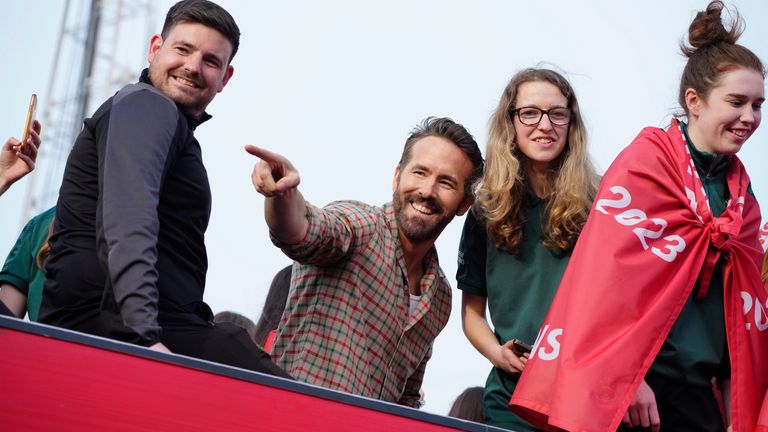 Click to subscribe to the Sky News Daily wherever you get your podcasts
Deadpool star Reynolds stressed Wrexham's long-term future would always remain front and centre.
"Ultimately, like any business, you want it to be able to self-perpetuate and continue growing. You don't want to lose money, but I don't think either of us are in this to make money either," he said.
"It's just about growing the best possible club and finding value in any place that we can find value, whether that is financial or emotional, sometimes it can be indistinguishable."
North Wales Police had warned fans to support the club safely by spreading themselves out along the 3.5-mile route.
Superintendent Nick Evans encouraged people to "take advantage of the whole parade route to avoid any potential overcrowding".
"There will be plenty of room for everyone to catch sight of the parade on its hour-long journey through Wrexham," he added.
"Anyone attending this event should be aware that there are offences relating to the possession and use of fireworks in a public place which includes flares and smoke bombs.
"There will be families and young children attending this event and as such a robust stance will be taken by the police should such offences be committed."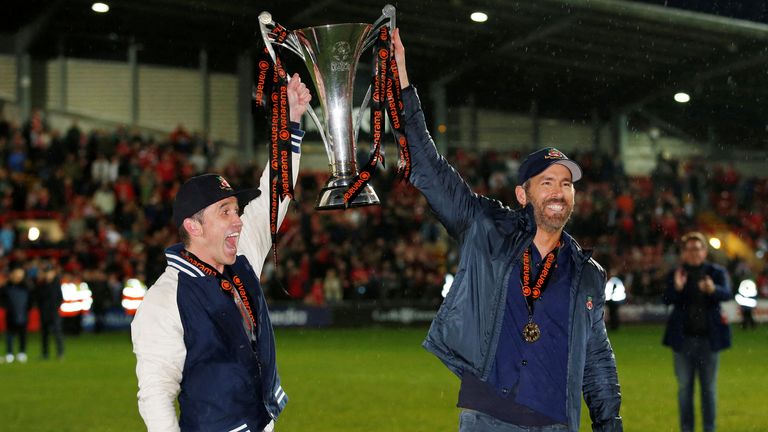 Read more from Sky News:
Mother who made three-year-old boy fast to death detained
Girl, 15, dies after being hit by car
School logos 'should not be compulsory' on uniforms
Wrexham AFC chief executive Fleur Robinson said that it was an opportunity to thank the community of Wrexham "for their incredible support".
"We are looking forward to commemorating a truly memorable and record-breaking season together," she added.
Wrexham Council's lead member for the economy and re-generation, Cllr Nigel Williams, said it was "a fantastic momentous occasion for Wrexham".