Hundreds of thousands of small businesses could face "tough decisions" following changes to the energy support scheme, according to the Federation of Small Businesses.
The Energy Bills Discount scheme has been introduced to provide UK businesses, charities and the public sector support with energy bills.
This scheme for non-domestic energy users will see discounts provided on high energy bills until 31 March 2024.
Until now, the Energy Bill Relief scheme capped energy costs, but the new support measure will only see bills discounted.
The Federation of Small Businesses (FSB) estimates around 370,000 small businesses will be negatively impacted by it.
Craig Beaumont, Chief of External Affairs at the FSB, told Sky News that these small businesses will face "tough decisions" in the months ahead.
He said: "We'll see some small businesses reduce their hours of operation, we'll have some having to let staff go, or look at other major expenditures.
"We expect some small businesses to close down altogether."
Mr Beaumont added that the new support scheme "won't help their bills".
He said: "The first government energy scheme was a fixed price, this second scheme is only a small discount, which means that while before you'd have your bill cut to about 25% of what it would've been, your new bill will be nearly exactly where it was last August.
"For a specific group of firms this is really bad news – if you're variable tariff or if you're out of your contract you're okay.
"But if you're fixed – especially if you fixed last August – you're in serious trouble."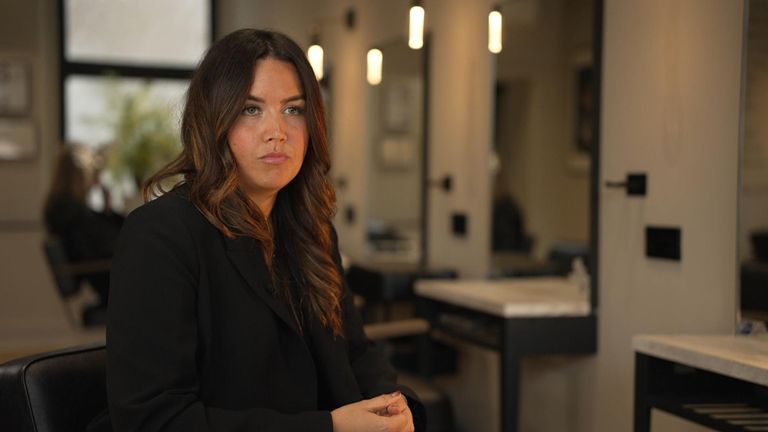 Ruby Byrne, owner of Ruby B Salon, told Sky News that her "worst case scenario" is struggling with costs so much that she has to sacrifice the service she provides her clients.
She's already considering solutions should she struggle to pay bills.
Ms Byrne said: "In the 13 years that I've been open, I've only ever increased my prices once.
"I may have to do it again so that's going to affect what clients I get, if they come back, and how often they come.
"That's obviously going to affect my business."
Click to subscribe to The Ian King Business Podcast wherever you get your podcasts
A government spokesperson told Sky News: "Companies large and small will benefit from the baseline discount through our new energy bills scheme and do not need to apply for it, and a higher level of support will be provided to the most energy and trade-intensive businesses of all sizes.
"While no national government can control the global factors pushing up the price of energy and other business costs, we continue to stand by business.
"That's why we provided them and other non-domestic energy users with an unprecedented package of support, enabling some businesses to pay around half of predicted wholesale energy costs this winter."