Former culture secretary Nadine Dorries has announced she is standing down as an MP at the next general election, blaming the "sheer stupidity" of MPs in her party who "got rid of Boris Johnson".
The Conservative MP fought back tears as she delivered the news on her TalkTV show, saying the decision had followed "much soul-searching".
Ms Dorries is a staunch supporter of the former PM and has not hidden her views on Rishi Sunak since he became prime minister.
She said: "Those MPs who drank the Kool-Aid and got rid of Boris Johnson are already asking themselves the question: who next?
"And I'm afraid that the lack of cohesion, the infighting and occasionally the sheer stupidity from those who think we could remove a sitting prime minister, who secured a higher percentage of the vote share than Tony Blair did in 1997, just three short years ago…
"That (they think) they could do that and the public would let us get away with it, I'm afraid it's this behaviour that I now just have to remove myself from."
As she began welling up she added: "And so despite it being a job that I've loved for every year I've done it, I'm now off. Oh gosh, I've just said it out loud, there's no going back now."
In the show, being aired on TalkTV at 8pm tomorrow, Ms Dorries also revealed how Mr Johnson "begged her" to stay on as an MP.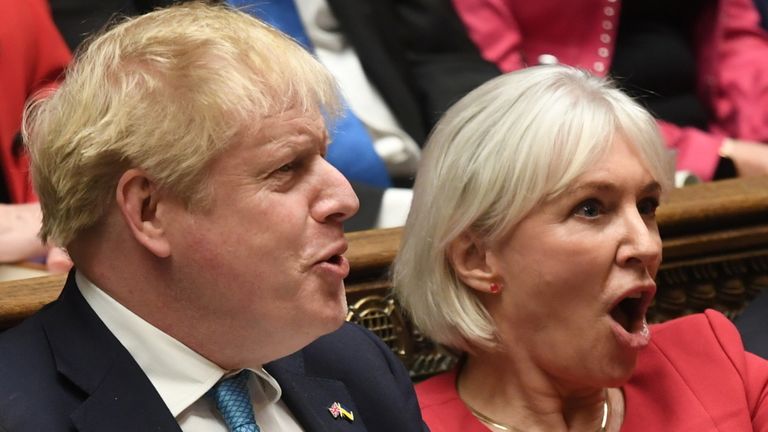 But she said that "given the poll rating of the Conservative Party, we are now likely to go to the wire in January 2025".
Pointing to Labour's more than 20-point lead over the Tories in the polls she said: "That, my friends, could be described as terminal. It leaves the party boxed into a corner with no exit route."
She continued: "There is no way on God's earth that those who plotted to depose Boris Johnson expected to be in the position we're in today,
"The elite, the faux political intellectuals, you know who I'm talking about – those who believe they know better than anyone else, bet everything on a Rishi bounce…but it never came and it was never going to. "
Ms Dorries appeared on reality TV show I'm A Celebrity in 2012 and is a best selling author.
She is the latest senior Tory MP to announce she will be standing down at the next election.
Former cabinet ministers Matt Hancock, Sajid Javid and George Eustice have confirmed they will not be fighting their seats, while a number of promising younger members have also confirmed their exits.