Many will remember Joe Cornish as one of the hosts of cult TV series The Adam And Joe Show – which saw the two friends recreating films out of toys, performing pranks, and getting Adam's dad to review music videos.
But it's now more than two decades since the programme ended and Cornish has since established himself as a writer and director, working on Steven Spielberg's The Adventures of Tintin, Marvel's Antman and his own directorial feature debut Attack The Block – which starred John Boyega in his breakout role – and more recently The Kid Who Would Be King.
Now, he's returned to TV with an adaptation of the young adult supernatural book series Lockwood & Co, for Netflix. And while it might feel to some as if Cornish takes his time between projects, he insists he's not slacking.
"This is me in rapid-fire mode," he laughs, pointing out to Sky News' Backstage podcast that the gap between Attack The Block (2011) and The Kid Who Would Be King (2019) is far greater than the three years between the latter and his current show.
"It takes a while to make these things – to get the money to write them, to film them, to post-produce them, so give me a break," he jokes. "I'm going as fast as I can!"
Lockwood & Co is about three young paranormal investigators, set in a version of London where an invasion of ghosts is causing misery to many, and children are used to fight against them.
It's certainly not the first time Cornish has worked with a younger cast.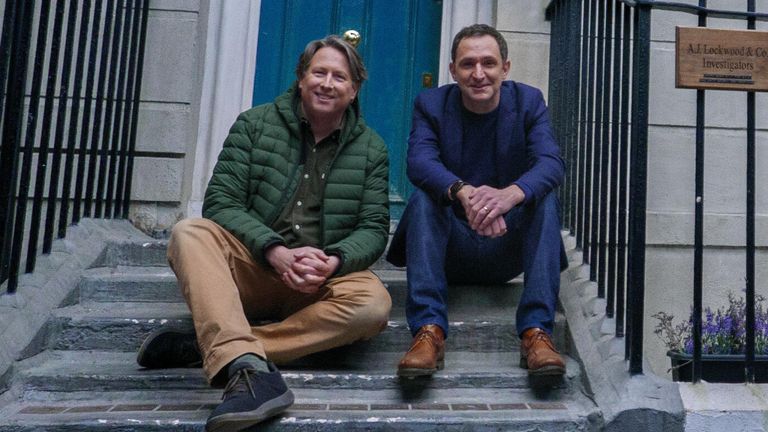 "I love it, I love the energy that younger actors bring," he says. "I love the excitement of coming to work every day – this part of the process is incredible, the process of the cast and crew screening, the premieres, it's so exciting and it brings this really youthful energy to everything, I guess.
"And I'm less scared of directing them than I am of very experienced actors because remember: actors make three films a year, directors only make a film every three years if they're lucky, so it makes me feel like the wise old man, which I kind of am I suppose – old, maybe not so wise."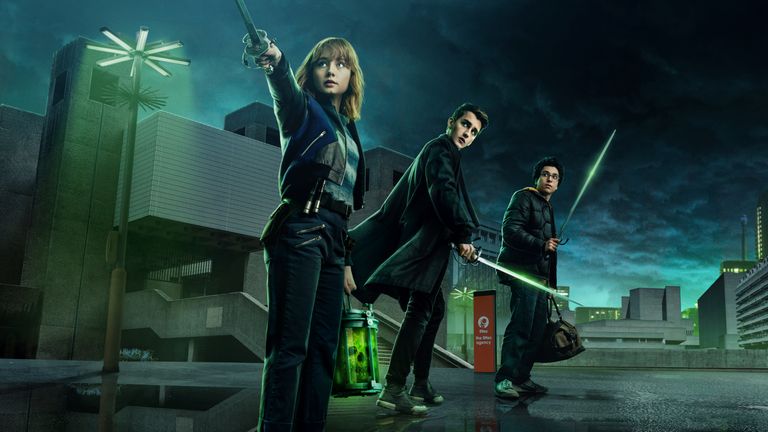 Lockwood & Co is something Cornish has been interested in for a while; he read the first of Jonathan Stroud's books a decade ago, describing it as "really brilliant and unique in these core ideas it has", but after a bidding war another studio bought the rights and his career took him elsewhere.
Some 10 years later, the rights became available again – and now with several more books in the series – and after a phone call to Stroud himself the wheels were in motion for the show to go into production with Cornish at the helm.
"They're right in my wheelhouse, they have all the things I love and they just have these really brilliant original ideas at the core," he says of the stories. "The first of which is ghosts can kill you by touching you."
Click to subscribe to Backstage wherever you get your podcasts
He continues: "The second is quite an old-school supernatural idea that young people are more sensitive to ghosts and the supernatural than older people; the third is that these agencies build up that employ the young people to fight the ghosts; the fourth is that ghosts can be repelled with iron and salts and these fairly sort of old-school analogue methods.
"So I'd never come across a ghost story with this new set of rules that turned it into an action-adventure story. Also, the central characters of Lockwood – Lucy, George – are so compulsive."
While this was a fresh take on the supernatural for Cornish, it certainly wasn't his first, though he'll be hoping it's better received than his first one was.
Read more:
The best films and TV shows of 2022 – and what to look out for in 2023
Backstage With… Good Luck To You, Leo Grande star Daryl McCormack
Backstage With… Christian Bale and The Pale Blue Eye cast
"I tried to make a Super8 film at school when I was 13," he admits. "It was called Yesyes, because that's [one theory] why a Ouija board is called Ouija board – Oui (French) – Yes, Ja (German) – Yes.
"I thought that was a very clever title! But we never finished it because no one cared about it as much as I did. They all got bored."
Lockwood & Co is out on Netflix, hear more about the show in the latest episode of Backstage – the film and TV podcast from Sky News